Welcome to Luna sul Trebbio!
A campingsite with bar, restaurant and swimmingpool for everybody!
Many people remember us for the swimmingpool, view and "cappellacci"! But everything is to discover!
When is clear you can see the sea just relaxing on our sunbeds next to the swimmingpool!
And it's really romantic to stay until evening, when the swimmingpool is lighted for the night's bath! You can swim under the moon and the stars with the entire lighted coast around you!
"Cappellacci" are not the only speciality:
We still do homemade pasta with the rolling pin and we cook meat and delicious desert in our wood oven!
In the summer the restaurant is open everyday, both for lunch and dinner, but a lot of people don't know that is open also in winter, every weekend!
In addition if you want to enjoy a real relax in the countryside you can remain in our bungalow, from 4 to 8 people each. There are 2 double bedrooms, 2 sofabeds in the livingroom, bathroom, equipped kitchen and veranda.
La Luna sul Trebbio offers also pitches for tent, camper and caravan with electricity, wc and hot showers.
Our camping site is located on a terraced hill, so everybody can enjoy the fantastic views!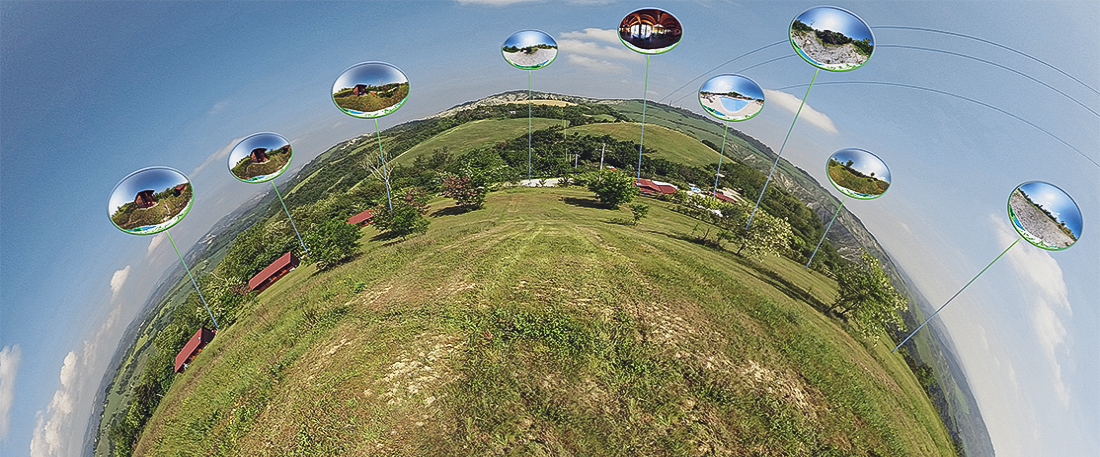 Bar Restaurant
The restaurant offers typical local homemade cuisine and the best tradition of Molise! In particular homemade pasta with the rolling pin! Than we do our piadina and "pizza fritta", we cook meat and delicious desert in the wood oven! During the summer, the bar is open every day from 9 until late and the restaurant for both lunch and dinner, while in winter only on weekends! It's open to everybody! We are at you disposal to organize customized menu for your parties and celebrations! Keep in touch to know our particular menu during the winter and all the other initiative!
Bungalow & Camping
You have to discover our bungalows surrounded by the nature! For 4/8 people.
They have two double bedrooms, two sofa bed in the living room, bathroom, a full equipped cooking area and a veranda.
Our bungalows are warmed for the winter when the ambience became nearly magic with the snow.
We have our pitches for tent, camper and caravan available with electricity, bathroom and shower with hot water
Swimming Pool
The swimming pool is located on a terrace with a unique view that reaches the coast!
The best moment is watch the sea on the sunrise when the sun reflects creating an orange strip on the skyline!
It's large 7x14m and deep 1.35 m at the top and 1.10m at the end where there is also a whirlpool.
During the summer it's open every day from 9 am until the evening's closing of the restaurant, so you can come in the evening with a very low entry for a nightly swim! It's open to everyone and the ticket includes also sunbeds and gazebo!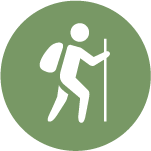 You have to know that this area is full of paths for bike, mountainbike or walking surrounded by nature! It's easy to meet wild animals as boars, roes and hares.
We are available to organize together walks, bike, motorcycle, quad or horses rally!
Soft Air
Are you ready to go?!
The soft-air is team game that simulates military missions, with electric toy guns and biodegradable plastic bullets (not paint bullets). As required the law, the weapons have power under 1 Joule, that make the game completely safe and everyone can enjoy it: from child of 12 years old up to "child" of 70 years old!
You'll be followed by an instructor who shows you how to use the weapons, explains the easy and accurate rules and follow the game in order to make sure that everything takes place in maximum security and absolute fun.
At the battlefield you'll feel like to be in a real warfront! Lurking in the woods where many surprises are waiting for you! In order to do two teams, we need from 8 to about 15 people.
Everybody can play! In the camping we have locker rooms, showers and parking places at your disposal!
In addition we can organize a package with the game and the lunch/dinner to celebrate at best and in original way your birthday, bachelor or bachelorette party, family or meeting colleagues gathering!
Events
We are at your disposal to organize any type of event!
From birthday, graduation, wedding or bachelor party with dinner, swimming pool and even softairt! Up to sporting events, concert, business dinners and gatherings of all kinds! The area is full of paths to do on foot, by bike and by mountain bike!

Every year at the beginning of October we organize the TRAIL ON THE TREBBIO! A foot race designed by the group of runners of Santa Lucia LE LINCI completely in the nature that surrounds us, with a long route for experts but also a short one, suitable for everybody! There are refreshment points and then shower and lunch at the Luna sul Trebbio! When the fun turns green!
Contacts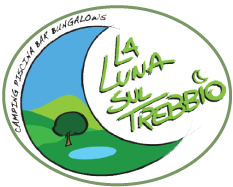 Newsletter
---
We are in the countryside between the cities of Faenza and Modigliana. The nearest Airports are in Forlì and Bologna and the nearest rail station is in Faenza.
There aren't public transports in our road, but we can come and pick you up from the station/airport !
If you travel by car you can come from FAENZA and the road is much easier than it seems: take for SANTA LUCIA and then go straight on 18km and you'll find our parking and wood's chalet directly on the road!
If you come from MODIGLIANA you have to take to the MONTE TREBBIO and at the junction turn left towards SAN SAVINO / FAENZA and continue until just after the church of San Savino! (there are about 10km from Modigliana)